Tips to spot scams, fight fraud and protect your money

IDENTITY PROTECTION | JULY 20, 2022 | TIM DIVELY

Can you spot a phishing scam? Every day, thousands of people fall victim to fraudulent emails, texts, and calls from scammers pretending to be their bank. And in this time of expanded use of digital banking, the problem is only growing worse. In fact, the Federal Trade Commission's report on fraud estimates that American consumers lost a staggering $1.9 billion to these phishing schemes and other fraud in 2019 — and the ongoing pandemic has only increased the threat. The pandemic has only increased the threat in 2021.
It's time to put scammers in their place. Online scams aren't so scary when you know what to look for. And at Peoples State Bank, we're committed to helping you spot them as an extra layer of protection for your account. We've joined with the American Bankers Association and banks across the country in a nationwide effort to fight phishing—one scam at a time—through a campaign called Banks Never Ask That.
"Do you wear boxers or briefs?"
"Do you believe in aliens?"
Banks would never ask you these questions. Just like a bank employee would never call you out of the blue and ask you "Could you verify your username and password?"
These top 3 phishing scams are full of red flags:
Text Message: If you receive a text message from someone claiming to be your bank asking you to sign in, or offer up your personal information, it's a scam. Banks never ask that.

Email: Watch out for emails that ask you to click a suspicious link or provide personal information. The sender may claim to be someone from you bank, but it's a scam. Banks never ask that.

Phone Call: Would your bank ever call you to verify your account number? No! Banks never ask that. If you're ever in doubt that the caller is legitimate, just hang up and call the bank directly at a number you trust.
Here are five things to watch for when you receive an email:
Check the sender of the email. Is it your bank? Is the email address from someone you know or trust at the bank, or is it a generic email address like info@bank.com?

Look for your name. Real banks know who you are.

Does the email ask for personal info? Real banks will never ask for personal info in an email.

Never click links. The link you click on could take you to a scammer's website.

Check spelling and grammar. Real banks rarely have typos in their messaging.

You've probably seen some of these scams before. But that doesn't stop scammers from trying them over and over again. For more tips on how to keep phishing criminals at bay, including videos, an interactive quiz and more, visit
www.BanksNeverAskThat.com
. And be sure to share the webpage with your friends and family.
---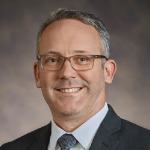 Tim Dively
Vice President, Chief Technology & Operating Officer
Experienced banking executive responsible for the operational, IT, data, cybersecurity, and marketing areas at Peoples. Leads the digital transformation and data analytics functions at the bank through detailed & agile strategic plans. Working to foster an innovative culture providing the best customer experience through our customers' preferred channel is paramount. Our focus on improving efficiencies, offering best in class digital solutions, while maintaining deep relationships with our current and prospective customers makes Peoples the bank that other community banks strive to be.