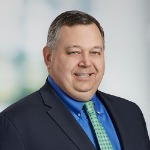 Waukesha, Wis. (April 14, 2021) As part of its acquisition of Sunset Bank & Savings, Peoples State Bank has hired longtime Waukesha resident and commercial banker Chadd Frank to lead the Peoples banking team in Waukesha. Frank will serve as Waukesha Market President, leading the Sunset team as it transitions to become part of the Peoples State Bank family.
"Peoples has a great reputation as a community bank, putting customers and employees first," said Frank. "The management and staff of the bank are interested in the customers and the community, which reminds me a lot of the style of banking that my father—who was a longtime bank president in Waukesha—instilled in me."
Frank will help the Sunset Bank & Savings employees transition in June to the Peoples State Bank brand. With headquarters in Wausau, Peoples will finalize the purchase of Sunset on April 16, furthering the bank's footprint in southeastern Wisconsin. Peoples opened a full-service bank in West Allis in 2020, after establishing a loan office in Wauwatosa in 2016.
"Chadd is exactly the kind of person Peoples was looking for to lead the Waukesha team. He's personable, well-connected, and understands that every customer—whether they're a business owner or a family of four—has their own unique banking needs," said Jeff Musa, Peoples State Bank regional president, southeast Wisconsin. "His banking experience in Waukesha, and what he learned from his father, will serve the Sunset Bank customers well as they transition to the Peoples brand."
"I've learned there is only one way to take care of customers. That's to treat them with respect, dignity, and honesty," said Frank. "I want them to succeed because when they do, the community prospers and the bank will follow suit, and that's important to me because of my life-long connection to Waukesha."
Frank is a Waukesha native with a business administration and finance degree from Marquette University. He and his wife and two children live in Vernon. Frank spends time with family and his children's activities, along with volunteering for various non-profit organizations.
Contact Chadd Frank with your banking questions by calling 262-693-6202 or visiting bankpeoples.com.
#          #          #
Peoples State Bank is a community bank headquartered in Wausau, Wisconsin, serving north, central, and southeast Wisconsin from ten full-service banking locations in Marathon, Oneida, Vilas, Waukesha, and Milwaukee Counties, as well as a commercial loan production office in Stevens Point, WI.