You can choose alerts and protections to ensure your money is safe

PERSONAL FINANCE | AUGUST 20, 2021 | BARBARA JONES
You may not know how much control you have over your Peoples Debit Mastercard®. Within our BankPeoples app are settings that allow you to put precise controls on where, when, and how your card is used. Would you like to set your card so that it will not work at certain types of stores? It can do that. How about setting your card to block mail or phone order transactions? It can do that. Would you like to set spending limits either by transaction or monthly totals? It can do that, too.
You can watch the video above on how you can set alerts and protections using the BankPeoples app or follow the steps listed next. Simply sign on to your account, and then choose the checking account your Peoples debit card is associated with. Choose the card management option from the menu for your checking account.
The card management menu provides a button that allows you to turn off and on your debit card associated with that checking account. It's an easy way to prevent unauthorized use of your card if you accidentally misplace it. Further down in the menu is the option to report your card lost or stolen. But be careful. If you use the "report your card lost or stolen" option, then find it a day later, you've already put the wheels into motion to cancel the card. Simply turning it off for a few days while you look for it may be a better option. When you're sure you've lost it or it's stolen, then report your card lost or stolen using the BankPeoples app. You can also use the app to re-order a card if it's been damaged.
The other option on the card management menu is for setting alerts and protections. This menu allows you to block your card from being used at various types of businesses. You can choose by merchant type including department stores, entertainment, gas stations, grocery stores, and more. You can block transactions for each type of merchant, or you can set an alert any time your card is used at that type of vendor. Let's suppose you have a college-age child and want to provide access to gas stations only. Simply block transactions at all other merchant types, leaving the gas stations option unblocked.
Another option for alerts and protections you can choose is for transaction types. You can block or set alerts for ATMs, eCommerce, in-store, mail/phone orders, and recurring types of transactions.
You can also set up spending limits and/or spending alerts. You can do this for each transaction you use your Peoples debit card, or you can set limits or alerts for monthly totals. Perhaps you are setting aside money every month for a new car and want to ensure you have enough for a down payment. Setting a monthly alert won't stop a transaction, but it might help you know when you are dipping into the funds you'd like to have set aside for that new car.
Finally, you can choose what type of notifications you want to receive for either blocked transactions or alerts you've set. The BankPeoples app can provide in-app messages, emails to the email associated with your account, or text messages to the phone number associated with your account.
Controlling your Peoples Debit Mastercard® is easy when you use the BankPeoples app. Want to learn more? Stop by your favorite Peoples location and talk to a personal banker about the BankPeoples app.
---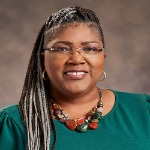 Barbara Jones
Vice President, West Allis Branch Manager
Barbara Jones was promoted to vice president, retail team leader, southeastern Wisconsin. As branch manager of the bank's West Allis location, Jones has built relationships with Peoples' retail and commercial banking teams. She will oversee all retail operations in southeastern Wisconsin, including the bank's new location in Waukesha. Jones consistently delivers extraordinary service and follow through for the bank's customers in the growing Milwaukee area market.