Phishing, Smishing, and Vishing Are Three Types of Scams
IDENTITY PROTECTION | MAY 26, 2022| TIM DIVELY
The stories are all over the news. Criminals use cyber trickery to attack innocent people or businesses. Many people still think the most common method of cyberattacks is through email. But more and more, criminals use text messages and phone calls to steal information. Here are the three most common forms of attack:
Phishing – using email with links in the message that can download a virus onto your computer, tablet, or cell phone.
Smishing – using text messages to coerce someone into providing personal information.
Vishing – using a phone call to try to gain sensitive information.
When it comes to communicating with Peoples State Bank, here are some things you should keep in mind. We won't send you a text message, email, or call you to ask for your account number or provide personal information. We only ask for verification information when you reach out to us to check on one of your accounts. But that's a conversation that you initiate, not us.
Scammers have gotten better and better at concealing their true identities. It used to be easy to pick out a phishing email by noticing misspelled words or sentences that didn't make sense. So, how can you protect your data and money in today's world? Here are a few tips that you can use if you receive a suspicious email, text message, or phone call:
Don't reply – Hackers rely on your concern to make quick decisions and click on links. By responding, you could be manipulated into revealing personal information.
Proceed with caution – If the message is marked urgent, step back, take a breath, and remain calm. Approach urgent requests or limited-time offers as a possible fraud attempt.
Call your bank – If you receive a text or email and want to verify the authenticity, call your banker or the bank location you typically visit—if you are calling or email, never use the number or address provided in a possibly fraudulent message.
Don't click on links – The link you click on could take you to a scammer's website or download a virus to your device.
Unfortunately, we can't prevent you from receiving a suspicious email, text message, or phone call. Scammers use actual companies to trick people into clicking links or providing personal information. As long as you stay vigilant, you'll have a much better chance of avoiding a criminal's cyberattack.
---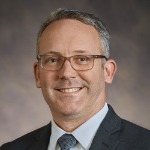 Tim Dively
Vice President, Chief Technology & Operating Officer
Experienced banking executive responsible for the operational, IT, data, cybersecurity, and marketing areas at Peoples. Leads the digital transformation and data analytics functions at the bank through detailed & agile strategic plans. Working to foster an innovative culture providing the best customer experience through our customers' preferred channel is paramount. Our focus on improving efficiencies, offering best in class digital solutions, while maintaining deep relationships with our current and prospective customers makes Peoples the bank that other community banks strive to be.