Online Shopping Scammers Abound
PERSONAL FINANCE | NOVEMBER 2, 2022 | EMILY DEHART
Keeping your financial information secure while you are online shopping is essential during the holiday season.
A possible risk while making online purchases could include having fake e-commerce sites target you. Phony e-commerce sites are created to obtain your information, making you a victim of identity theft or hacking. These sites bait you in with incredible deals that are hard to pass up, and the websites then disappear a few weeks later.
Similarly, pay close attention to the URL of the retailer. Scammers will try to trick you with similar websites and domain names. They attempt to lure users into fake websites to purchase something, and then they have your payment information while you are left empty-handed.
Watch out for contests or prizes that seem "too good to be true." Keep your guard up with suspicious emails that have messages or posts promoting giveaways or contests that offer an unlikely deal. If a contest requires you to perform any financial transaction, they are likely scammers designed to take your money and personal information.
While shopping, only do so on secure internet connections. To protect your identity from thieves and cybercriminals, ensure the URL begins with https:// while entering payment information. Avoid purchasing items that involve personal information or financial information while using an open or unsecured Wi-Fi connection.
Be aware of the risks you run with your form of payment.
Credit Cards - will offer you better purchase protection and fraud dispute. However, remember that the money you spend will have to be repaid. It's easy to get caught up in the deals and overspend.
Debit Cards – are less risky to get into debt but keep an eye on overdraft charges. Debit card transactions are deducted directly from your checking account, so if the information is stolen, they can drain your account.
There are a lot of good deals this time of year with holiday sales. The last thing you want is to deal with identity theft during this busy and stressful time of year. Use these precautions while online shopping to avoid hassles later. Stop into your nearest Peoples State Bank location to talk with a personal banker about identity protection.
---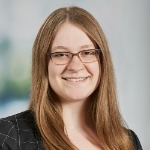 Emily Dehart
Personal Banker
Emily is an experienced personal banker at Peoples State Bank - Waukesha. Emily helps our retail customers with their financial questions, providing Peoples products to serve their needs.
262.970.9000 | emily.dehart@bankpeoples.com