Simple tips to help you get started
PERSONAL FINANCE | NOVEMBER 16, 2022 | SUE SODERBERG
Many people put off the task of building a budget. For some people, the process is confusing because they were never taught how to budget appropriately. For others, facing the fact they spend money frivolously may be a deterrent. While it may seem a bit overwhelming initially, breaking down the budget process into manageable steps can help you.
Getting started
The first step in building a budget is to list all of your income. We'll assume you make a monthly budget, which is the most common. Write down your monthly income, including your take-home pay, along with any tips, bonuses, cash gifts, or tax refunds you might expect. Add your monthly income to see your total. And remember, as you build a monthly budget, some months may see more or less income. For example, if you're paid every other week, you'll have two months every year when you receive three paychecks. After calculating your monthly income, you can turn to the expense side of the equation.
When it comes to your expenses, you can expect to put the monthly costs into one of two categories.
Fixed – These expenses include a house payment or monthly rent, vehicle payments, insurance, and anything else that doesn't change on a month-by-month basis. Don't forget to include items that may not need to be paid monthly, such as automobile registration fees. Look over your past bank records to find when those items have occurred in previous years, adding them to the appropriate month for the coming year.
Variable – These expenses may change monthly, including groceries, entertainment, travel, restaurants, and gift purchases. Like the fixed expenses, you may find items that you typically spend every year by reviewing your bank account statements for the past 12 months. Don't forget to include things you may not consciously think about, like stopping every morning to purchase a latte or the daily walk to the vending machine at work. Those items add up and should be included in your initial budgeting process.
After adding up all of your typical expenses, subtract that amount from your monthly income to see how much money you have leftover or whether you may need to cut costs to align with your income. If you need to cut expenses, those cuts—at least short-term—will come from your variable expense list. While it is possible to cut from your fixed costs, it may take time. Perhaps you can switch cellphone carriers to save money. But you may need a month or two to make that happen. If you have money left over monthly, you can start to set some aside for emergencies, or other "wants" you might have.
What's next?
Now that you have a clear picture of your monthly income and expenses and whether you have money left over or need to trim your spending, you can continue the process of budgeting by choosing a method to follow. There are three standard methods to choose from, based on how you pay your bills.
Checkbook Method – This is typically used when you pay your bills through your bank's debit card or checks.
Envelope Method – This is typically used by people who primarily use cash to pay their bills.
Notebook Method – This is typically used when using cash, debit cards, or checks to pay your bills.
Let's check each of these methods out in more detail to see how they work. And we'll share a bonus budget method for you to consider at the bottom of this list.
Checkbook Method
Use a checkbook ledger to track your deposits and expenses. If you have an extra register, start on a new page with your current account balance listed on the first line. Then, as you pay for expenses, list each on a separate line, subtracting the amount from the line above. This allows you to follow along and track your remaining income. As you receive income, note that on a separate line and add your income to what you have left. If you pay for an item with cash, don't forget to add that to this ledger. Remember, all expenses must be accounted for, even if paid in cash.
Envelope Method
People who tend to pay all their bills with cash can employ an envelope method for budgeting. You can create envelopes for each expense category you have. For example, you can write "groceries" on an envelope that includes the typical monthly amount you spend. When you go to the grocery store, take what you expect to pay out of that envelope, leaving the remaining amount for later trips to the market. The drawback with an envelope method is the amount of cash you have sitting around.
Notebook Method
The notebook method is similar to the checkbook method, but instead of using a check register, you record all your income and expenses in a notebook. You can do this one of two ways. You can use one page for a month's budget entries, listing all income and expenses per month. Or you can use one page for a category of costs, such as our envelope method example of "groceries" listed. No matter how you pay your bills, you need to keep track in the notebook to ensure you know how much money you're spending and have left.
Bonus!
Spending Habits-Smart Budget Tool
If you're a Peoples State Bank customer, you have an incredible budgeting tool you can use. It's our Spending Habits-Smart Budget tool, included with your digital banking platform if you have a Peoples checking or saving account. You can build and track your budget using our online tool. You can learn more about the Spending Habits-Smart Budget tool here and find it within your digital banking platform—whether you use our Bank Peoples app or our desktop, laptop, or tablet connection.
Regardless of which budget method you choose, remember that if you don't feel like it's working well for you, try a different approach until you find one you feel comfortable with. It should become second nature for you once you get the hang of it.
With all this information at your fingertips, you'll be able to create a household budget that helps you reach your financial goals. And remember, you can learn more about budgets and personal finances from a Peoples personal banker. Stop by a bank location or call 888.929.9902 to speak to one today.
---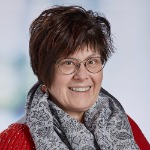 Sue Soderberg
Personal Banker
Sue is an experienced banker working with personal customers at Peoples State Bank. Sue meets and works with customers to help them with their banking needs.