What is a mobile wallet?
A mobile wallet is an app that resides on your phone, tablet, or smartwatch, and stores debit card or credit card informtaion. Using your device for buying things online or in stores is easy once you have a card tied to the app. You can use Peoples debit or credit cards in a mobile wallet. 
A mobile wallet is either a built-in feature of your device or an app that can be installed on your device. Mobile wallets store credit card, debit card, coupons, or reward card information on your device. Three of the main built-in wallets are Apple Wallet, Google Wallet, and Samsung Wallet. They are integrated with their respective payment services, Apple Pay, Google Pay, and Samsung Wallet. In addition to these built-in wallets storing your payment information, they can also hold other documents such as event tickets, vaccination records, and airline boarding passes.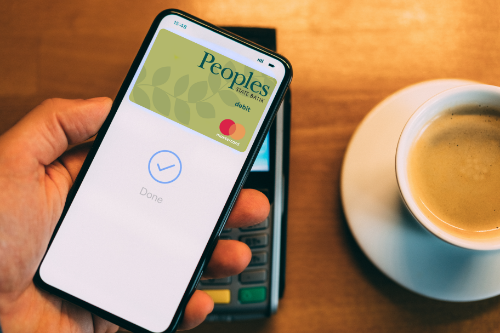 Once the connection is established between your device's mobile wallet and your payment option, you can easily make a payment in a store, restaurant, other retailers, or online with your mobile wallet. The payment process is similar to using a debit or credit card that is set up for contactless payments. That's because the payments work the same way using near-field communication. The information transfer is triggered when the user waves or holds the device over the store's contactless card reader.
Depending on the device you're using and what security parameters you have set, you may have to use a passcode or facial recognition to approve the transaction. 
Fraudulent activities, such as identity theft, are harder to initiate with mobile wallets. Though a user's card can easily be stolen or duplicated, smartphones are not as easy to steal. A stolen smartphone may be hard to access depending on what you've set for security purposes, including passwords, fingerprint checks, or facial recognition. And mobile wallets don't store your card data on the device, they use encryption and tokens for secure transactions.