Take Control of Your Peoples Debit Card
DIGITAL BANKING | OCTOBER 25, 2022 | BARBARA JONES
The Bank Peoples app lets you choose how, when, and where your Peoples debit card is used. When it comes to security, the Bank Peoples app has you covered. That's because this powerful app has Advanced Card Controls that put you in charge of who uses your card—and how they use it. And it's as easy as a tap on your phone.
With Advanced Card Controls, you can:
Turn your Peoples debit card off if it is lost, stolen, or being misused or back on when ready
Get instant alerts when your Peoples debit card is used
Set dollar limits to keep your spending in check
Prevent transactions that don't match your settings
It's just another way the Bank Peoples app helps you safely and securely manage your money. Download the Bank Peoples app on the App Store or Google Play.
Here's how to set up Advanced Card Controls:
Go the Bank Peoples app dashboard and select "Accounts" – then select the appropriate account
Go to "Card Management" and choose a card
Finally, tap "Alerts & Protection" and choose the controls you would like to apply to that card
Still have questions? Feel free to contact Peoples State Bank at 888.929.9902 and ask to speak to a personal banker who can help you with your questions.
---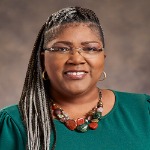 Barbara Jones
Vice President, Retail Team Leader - Southeastern Wisconsin
Barbara Jones was promoted to vice president, retail team leader, southeastern Wisconsin. As branch manager of the bank's West Allis location, Jones has built relationships with Peoples' retail and commercial banking teams. She will oversee all retail operations in southeastern Wisconsin, including the bank's new location in Waukesha. Jones consistently delivers extraordinary service and follow through for the bank's customers in the growing Milwaukee area market.