Peoples' Maureen Jorgensen honored by BankBeat magazine

PERSONAL FINANCE | NOVEMBER 18, 2021 | PEOPLES STATE BANK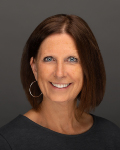 BankBeat magazine recently honored Peoples State Bank's Maureen Jorgensen as one of the Outstanding Women in Banking for 2021. BankBeat honors women who have made outstanding contributions to their bank, the banking industry, or the communities they serve.
The
BankBeat story
focuses on several keys that Jorgensen points to for her success, including being authentic and forming genuine connections. Jorgensen counts them among her eleven keys to being a good person, employee, mentor, and supervisor.
Be authentic

Be present

Strive to make connection with others

Set a daily goal to make a positive difference in the life of another person

Stay in your own lane (Keep your eyes on your own paper)

Let others be who they are

Replace judgement with empathy

Be curious

Ask for help when you need it

Assume innocence

Practice gratitude
It was two of her long-time connections in banking who nominated her for the BankBeat honor. Lori Kalscheuer, the Wisconsin Bankers Association's director of education, and Kari Solomonson, Peoples State Bank's vice president – retail team lead, provided Jorgensen's name to be considered.
"Maureen's strength and courage are demonstrated in her professional life as she guides those who follow her through change, ups and downs, and ultimately towards success," said Solomonson. "Maureen has an amazing ability to connect with people. She offers a sympathetic ear and can ask intelligent questions to guide a person into forming their own answer or maybe looking at something a little differently."
Mentoring others has always been important to Jorgensen. Her own experience early in her career on the receiving end taught her that making personal connections with others—especially other women in banking—can help them professionally and personally.
Early in her career, Jorgensen was mentored by Bank One colleague Rose Meagher. Jorgensen is still close with Meagher, and they connect via Zoom once a month. Meagher taught Jorgensen to "not just look at the work, but to see the meaning behind it as well." ~ BankBeat Magazine
"Maureen shines in many areas but assisting women in attaining professional excellence and leadership skills is where she shines the brightest," said Solomonson. "She inspires us to be the best we can be and pushes us outside our comfort zone, staying in contact to cheer us on or pick us up when we're down."
In addition to working the past ten years as the head of retail at Peoples, Jorgensen worked at several other banks during her career. She recently announced her retirement from Peoples at the end of 2021, but will launch a consulting service in 2022, where she will continue to share her mentoring skills and guidance for both individuals and bank leaders.
---
Peoples State Bank

Peoples State Bank is a community bank headquartered in Wausau, Wisconsin, serving north, central, and southeast Wisconsin from ten full-service banking locations in Marathon, Oneida, Vilas, Waukesha, and Milwaukee Counties, as well as a commercial loan production office in Stevens Point, WI.