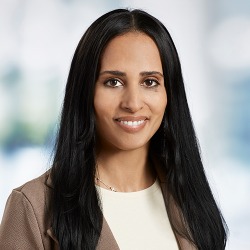 Wausau, Wis. (May 11, 2023) Peoples State Bank announces the hire of Alicia Ramirez (NMLS# 410967) as a mortgage lender serving West Allis and the greater Milwaukee area. Ramirez will be based at the bank's West Allis location but will meet with mortgage customers throughout the Milwaukee market.
"Peoples has a great reputation helping customers with mortgage loans and financing their dream homes," said Ramirez. "I'm excited to work with Ken Kilman in our Waukesha branch, who has grown the Peoples mortgage business in southeastern Wisconsin."
Ramirez joins Peoples with two years of experience as a mortgage lender, along with an additional sixteen years of experience in retail banking.
"Alicia's passion for helping families finance their homes in the Milwaukee area aligns perfectly with the Bank's mission in southeast Wisconsin," said Curtis McElhaney, Peoples State Bank vice president, mortgage. "We're thrilled to have Alicia join our team, as she will be very active in the communities we serve."
Ramirez will assist customers in obtaining financing to purchase a home, refinance an existing mortgage, or set up a construction loan while building their dream home.
#          #          #
Peoples State Bank is a community bank headquartered in Wausau, Wisconsin, serving north, central, and southeast Wisconsin from ten full-service banking locations in Marathon, Milwaukee, Oneida, Vilas, and Waukesha Counties, as well as a commercial loan production office in Stevens Point, WI. Peoples provides financial services to business owners and individuals and investment and retirement planning services through Peoples Wealth Management, a division of Peoples. Peoples was founded in 1962 and has $1.3 billion in total assets. PSB Holdings, Inc., the parent company of Peoples State Bank, trades its common stock under the stock symbol PSBQ on the OTCQX Market. Peoples is an Equal Housing Lender and Member FDIC. More information about Peoples can be found at bankpeoples.com.