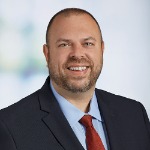 Wausau, Wis. (June 7, 2022) Peoples State Bank announces the hire of Bryan Wulk (NMLS# 285738) as a mortgage lender serving the greater Wausau area. Wulk will be based at the bank's Stewart Avenue location but will meet with mortgage customers throughout central Wisconsin.
"I'm thrilled to join Peoples and help customers interested in purchasing or refinancing a home," said Wulk. "My goal as a mortgage lender has always been to make the home-buying process as easy as possible for my customers."
Wulk joined Peoples with 19 years of experience as a mortgage lender, along with an additional six years of experience in retail banking.
"Bryan's experience helping home buyers in central Wisconsin is a big asset," said Curtis McElhaney, Peoples State Bank vice president, mortgage. "I know Bryan will be a significant addition to our mortgage team."
Wulk will assist customers in obtaining financing to purchase a home, refinance an existing mortgage, or set up a construction loan while building their dream home.
Wulk has a Bachelor of Science in Business Administration degree from Minnesota State University in Mankato, Minnesota. He is an active member of his church and volunteers to help raise funds for K-Tech Charities and St. Jude Children's Research Hospital.
#          #          #
Peoples State Bank is a community bank headquartered in Wausau, Wisconsin, serving north, central, and southeast Wisconsin from ten full-service banking locations in Marathon, Oneida, Vilas, Waukesha, and Milwaukee Counties, as well as a commercial loan production office in Stevens Point, WI.