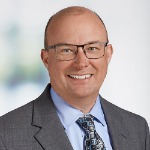 Wausau, Wis. (March 29, 2022) Peoples State Bank announces the hire of Erin McCormick as vice president and northern Wisconsin retail team leader. McCormick will oversee the bank's retail operations in Rhinelander, Eagle River, and Minocqua. He succeeds Cindy Wright, who announced earlier this year that she would retire from the bank this May.
"I've learned through my many experiences in banking that customers don't care how much you know until they know how much you care," said McCormick. "Peoples is different than most banks. The customer is centric in all that we do. Taking time to listen and understand each specific customer's needs is important. I strive to add value similarly and aspired to work with an organization that is similarly positioned to serve the customer, their colleagues, and our communities."
McCormick joins Peoples with more than two decades of experience in banking. His experience includes managing retail banking teams in regional and single bank locations. McCormick has helped guide his employees towards delivering consistent experiences no matter what method the customers chose to interact with the bank.
"Erin's extensive leadership skills will benefit Peoples in the Northwoods and throughout Peoples," said Jeffrey Saxton, Peoples State Bank vice president, and retail group leader. "His experience and passion for helping his employees and customers succeed is a natural fit with Peoples' customer focus."
"Peoples is excellent at providing for the needs of their customers, their colleagues, and their community. It's challenging for a bank to be great at all three," said McCormick. "Peoples is. And I wanted to be part of continuing that history of excellence."
McCormick is currently attending the Graduate School of Banking at the University of Wisconsin-Madison and will graduate in 2023 after earlier completing the Digital Marketing School, and Sales and Marketing School. He supports many non-profits, including Life Promotions, a bullying prevention program providing culture change in schools to improve academic learning.
#          #          #
Peoples State Bank is a community bank headquartered in Wausau, Wisconsin, serving north, central, and southeast Wisconsin from ten full-service banking locations in Marathon, Oneida, Vilas, Waukesha, and Milwaukee Counties, as well as a commercial loan production office in Stevens Point, WI.