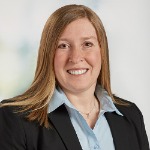 Wausau, Wis. (May 24, 2022) Peoples State Bank announces the hire of Megan McCoy as the bank's vice president and marketing director. McCoy will oversee Peoples' marketing, public relations, sponsorships, and charitable contributions.
"I'm thrilled to join Peoples and continue the bank's marketing efforts," said McCoy. "We have a wonderful opportunity to expand our already large share in our traditional north-central Wisconsin market while building on the bank's rapid growth in southeastern Wisconsin."
McCoy joined Peoples with 23 years of experience at community-focused Milwaukee-area banks, including 17 years leading a marketing and community relations team.
"Megan's experience will be critical to our success," said Tim Dively, Peoples State Bank vice president, chief technology and operating officer. "We're confident she will be a significant addition to our leadership team while supporting the growth we're experiencing."
"Peoples is a people-first organization that understands the needs of our customers throughout Wisconsin," said McCoy. "I look forward to working with the leadership team and marketing staff to tell the Peoples brand story to people looking for a bank that provides exceptional value to its customers."
McCoy has a Bachelor of Science in Business and Information Science from the University of Wisconsin-Green Bay. She is a member of TEMPO Milwaukee's Emerging Women Leaders. She and her husband spend their free time with their three children.
Peoples State Bank
 is a community bank headquartered in Wausau, Wisconsin, serving north, central, and southeast Wisconsin from ten full-service banking locations in Marathon, Oneida, Vilas, Waukesha, and Milwaukee Counties, as well as a commercial loan production office in Stevens Point, WI.