Ribbon-Cutting Part of Grand Opening Celebration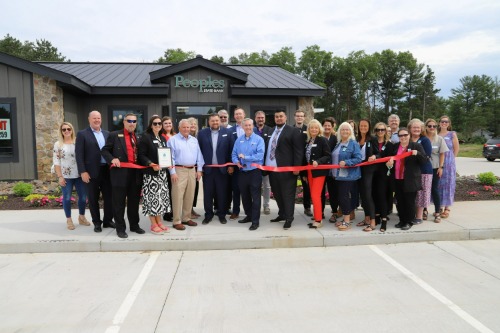 Peoples State Bank opened its new full-service bank branch in Stevens Point. The new branch is located at 138 McDill Avenue, near the intersection of McDill Avenue and Post Road.
"Peoples State Bank is fully committed to our customers in the Stevens Point metro area—bringing the same excellent customer service to Portage County that has helped us grow to be Marathon County's number one community bank," said Scott Cattanach, Peoples State Bank president and CEO. "For over 60 years, Peoples has been committed to providing financial solutions with a welcoming experience while supporting our community's growth. As new customers come to know Peoples, they'll find a partner built on strong relationships to meet individual needs."
The new location includes a drive-up Video Teller ATM, providing additional services beyond a traditional ATM. With the assistance of the live video teller, customers can deposit money or checks, transfer money within their accounts, make a loan payment, and withdraw money.
"This new technology is another option for our customers to meet their banking needs," said Jeff Saxton, Peoples State Bank vice president, retail sales and service. "We're excited to bring a full-service branch to Stevens Point, along with the Video Teller ATM features."
Branch manager Dustin Dietel joined Peoples with over five years of banking experience and will guide the Stevens Point personal banking team to serve and educate customers on products that benefit their unique financial situation.
The Portage County Business Council ambassadors were on hand for a ribbon-cutting, followed by an open house from 10 a.m. to 2 p.m. The branch will have Monday-Friday hours of 9 a.m. to 5 p.m. and drive-up Video Teller ATM hours Monday-Friday from 8:30 a.m. to 5:30 p.m. and Saturday from 9 a.m. to Noon.
#          #          #
Peoples State Bank is a community bank headquartered in Wausau, Wisconsin, serving north, central, and southeast Wisconsin from eleven full-service banking locations in Marathon, Milwaukee, Oneida, Portage, Vilas, and Waukesha Counties. Peoples provides financial services to business owners and individuals and investment and retirement planning services through Peoples Wealth Management, a division of Peoples. Peoples was founded in 1962 and has $1.3 billion in total assets. PSB Holdings, Inc., the parent company of Peoples State Bank, trades its common stock under the stock symbol PSBQ on the OTCQX Market. Peoples is an Equal Housing Lender and Member FDIC. More information about Peoples can be found at bankpeoples.com.