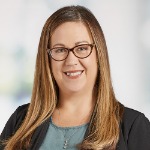 Wausau, Wis. (May 2, 2022) Peoples State Bank announces the promotion of Amanda Heiner to Mortgage Loan Officer (NMLS#523709). Heiner will work with customers in the Wausau area looking to purchase a home or refinance and need a mortgage loan through Peoples.
"Negotiating the paperwork and requirements to get a mortgage can be tricky—especially for first-time homebuyers," said Heiner. "My experience here at Peoples as a senior mortgage processor and my other banking experience will provide the background needed to help our customers through the maze of paperwork."
Heiner joined Peoples as a senior mortgage processor in October 2021 with more than 14 years of banking experience.
"Amanda's experience at Peoples and throughout her career points to an attention to detail and natural problem-solving skills," said Curtis McElhaney, Peoples State Bank vice president, mortgage. "Customers will find Amanda focused on them and their needs creating a great experience while they make decisions on what is likely the largest purchase they'll ever make."
"Peoples mortgage loan officers have set the bar very high," said Heiner. "I'm excited to be part of the mortgage team—providing the same kind of excellent service our customers have come to expect from Peoples."
Heiner has a Bachelor of Science in Business Management from the University of Phoenix. She spends time volunteering at local schools and is active with as many veterans/military events as possible.
#      #      #
Peoples State Bank is a community bank headquartered in Wausau, Wisconsin, serving north, central, and southeast Wisconsin from ten full-service banking locations in Marathon, Oneida, Vilas, Waukesha, and Milwaukee Counties, as well as a commercial loan production office in Stevens Point, WI.