Peoples Promotes Brandon Karaba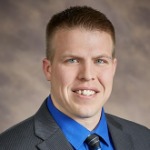 Wausau, Wis. (October 5, 2022) Peoples State Bank announced that Brandon Karaba (NMLS# 412960) has been promoted to vice president – regional market sales lead. Karaba will lead the mortgage sales team in Peoples' northern market, including Rhinelander, Minocqua, and Eagle River.
"For 18 years, Brandon has built solid relationships with mortgage customers in Rhinelander and throughout the Northwoods," said Curtis McElhaney, Peoples State Bank vice president, mortgage. "His dedication exemplifies the Peoples State Bank brand of always seeing the potential with families who are interested in purchasing their dream home."
Karaba has been a consistent top mortgage lender in Peoples' northern market. In this new role, he will help develop sales strategies and provide critical insight into the home-buying market in northern Wisconsin. Peoples' northern market mortgage team includes Tim Sanderson in Minocqua and Tori Dunlap in Eagle River.
"Buying a home can be an incredibly stressful time since it is likely the most expensive thing a couple will purchase," said Karaba. "Taking the stress out of the home-buying experience is critical. Our northern market mortgage lenders are skilled in making it easy for home buyers to thrive during the mortgage loan process."
Karaba—a native of Rhinelander—was a standout for the Hodags basketball team and has served as an assistant varsity coach for several years. He is the president of the Rhinelander Athletic Booster Club, a Kiwanis member, a police and fire commissioner, and has organized an annual alumni basketball tournament for 19 years, renaming it the Russ Johnson Memorial Alumni Basketball Tournament after the passing of Johnson in 2016.
#          #          #
Peoples State Bank is a community bank headquartered in Wausau, Wisconsin, serving north, central, and southeast Wisconsin from ten full-service banking locations in Marathon, Milwaukee, Oneida, Vilas, and Waukesha Counties, as well as a commercial loan production office in Stevens Point, WI. Peoples provides financial services to business owners and individuals and investment and retirement planning services through Peoples Wealth Management, a division of Peoples. Peoples was founded in 1962 and has $1.3 billion in total assets. PSB Holdings, Inc., the parent company of Peoples State Bank, trades its common stock under the stock symbol PSBQ on the OTCQX Market. Peoples is an Equal Housing Lender and Member FDIC. More information about Peoples can be found at bankpeoples.com.