Jensen Named Information Security Officer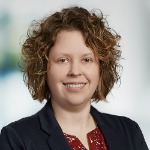 Wausau, Wis. (November 17, 2022) Peoples State Bank announced that Casey Jensen has been promoted to the position of Information Security Officer. Jensen has been a member of the bank's IT team for nine years.
"Casey's dedication to Peoples and our customers is the perfect fit for this newly created position," said Robert McPherson, Peoples State Bank vice president, risk management. "Her experience lends itself to this role, which is critical in keeping our information security programs ready to protect our customers' digital assets safe."
In addition to her time at Peoples, Jensen has another nine years of IT experience at other companies. In this new role, she'll work closely with Peoples' IT staff but will have other responsibilities, including training, business continuity, and disaster recovery programs.
"I'm excited to build upon the bank's successful information security platforms and processes to provide the necessary education and strategies to strengthen security for the bank and our customers," said Jensen. "Peoples has been at the forefront of adopting information security best practices for years, and this new role will strengthen the bank's resolve to keep our customer's information secure."
Jensen—a native of Medford, WI—has been a Peoples employee since 2013. She lives in Merrill with her family. She spends her free time with family and friends.
#          #          #
Peoples State Bank is a community bank headquartered in Wausau, Wisconsin, serving north, central, and southeast Wisconsin from ten full-service banking locations in Marathon, Milwaukee, Oneida, Vilas, and Waukesha Counties, as well as a commercial loan production office in Stevens Point, WI. Peoples provides financial services to business owners and individuals and investment and retirement planning services through Peoples Wealth Management, a division of Peoples. Peoples was founded in 1962 and has $1.3 billion in total assets. PSB Holdings, Inc., the parent company of Peoples State Bank, trades its common stock under the stock symbol PSBQ on the OTCQX Market. Peoples is an Equal Housing Lender and Member FDIC. More information about Peoples can be found at bankpeoples.com.