Grell Joines Private Banking Team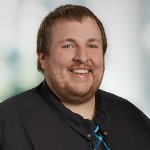 Wausau, Wis. (December 13, 2022) Peoples State Bank announced that Jacob Grell has joined Peoples' Private Banking team. Grell will provide convenient and personalized services for Peoples' Private Banking customers. 
"Throughout his career, Jacob has provided customers personalized service, assisting them with their unique financial situations," said Meredith Otte, Peoples State Bank vice president, Private and Commercial Banking. "Jacob's high level of customer service and excellent communication skills will serve our Private Banking clients well."
Grell's experience consists of more than nine years in the financial industry, including nearly five years at Peoples State Bank. He most recently served as a personal banker, assisting customers with account opening, transfers, and working through financial questions.
"I'm excited to transition the skills I've learned from working as a personal banker into the private banking realm," said Grell. "I've offered everyone great service and follow-through, which will be critical to the success of our private banking customers."
Grell will be based at Peoples' Stewart Avenue location and serve private banking customers throughout Wisconsin as Peoples expands their Private Banking program. Grell has lived in the Wausau area nearly all his life. He's been married for eight years and has one child. Grell is actively involved as a board member for the Get Smart Wausau Coalition, including serving as the group's financial literacy coordinator. He also volunteers as a coach for the Finance & Investment Challenge Bowl.
#          #          #
Peoples State Bank is a community bank headquartered in Wausau, Wisconsin, serving north, central, and southeast Wisconsin from ten full-service banking locations in Marathon, Milwaukee, Oneida, Vilas, and Waukesha Counties, as well as a commercial loan production office in Stevens Point, WI. Peoples provides financial services to business owners and individuals and investment and retirement planning services through Peoples Wealth Management, a division of Peoples. Peoples was founded in 1962 and has $1.3 billion in total assets. PSB Holdings, Inc., the parent company of Peoples State Bank, trades its common stock under the stock symbol PSBQ on the OTCQX Market. Peoples is an Equal Housing Lender and Member FDIC. More information about Peoples can be found at bankpeoples.com.