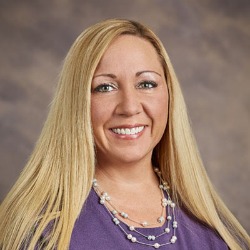 Wausau, Wis. (April 26, 2022) Peoples State Bank announces the promotion of Jill Whittaker to a newly created position as the Digital Branch Manager. Whittaker will lead the Peoples team devoted to the bank's digital banking products.
"We know that serving our customers is important, no matter how they choose to do their banking with us," said Whittaker. "I see this new position as digital branch manager similar to our branch managers at each bank location. We're here to support our customers and the employees who are part of the team serving them."
Whittaker has been a senior personal banker in Peoples' Rhinelander location for more than five years. She has worked with customers to open new accounts, assist them with loans, and provide guidance on other bank products. And she's been part of the bank's digital banking experts group, providing customers and co-workers with advice on digital banking platforms.
"Jill has great customer service skills and a passion for helping our customers with our digital banking products, like our online banking and Bank Peoples app," said Jeffrey Saxton, Peoples State Bank vice president and retail group leader. "Her experience as a senior personal banker has proven she's a trusted resource to customers and co-workers alike."
"I'm excited about the opportunity, and the direction Peoples has taken in building our digital banking options for customers," said Whittaker. "We offer all the online banking tools that much larger financial institutions offer, but with unmatched customer service for those who need the assistance."
Whittaker has been in the banking industry for more than 25 years. She serves on the board of directors for the Rhinelander Lions Club and volunteers for many Lions events in her spare time.
#          #          #
Peoples State Bank is a community bank headquartered in Wausau, Wisconsin, serving north, central, and southeast Wisconsin from ten full-service banking locations in Marathon, Oneida, Vilas, Waukesha, and Milwaukee Counties, as well as a commercial loan production office in Stevens Point, WI.