Peoples Promotes Heather Martell to Weston Branch Manager Officer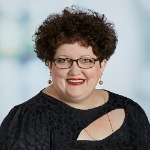 Wausau, Wis. (September 29, 2022) Peoples State Bank announced that Heather Martell has been named the branch manager of the bank's Weston location. Martell moves from the bank's Treasury Management department, where she most recently served as a treasury management officer.
"Heather brings a vast array of banking knowledge with her to the Weston branch," said Kari Solomonson, Peoples State Bank vice president, retail team leader. "Throughout her career in banking, Heather has excelled at demonstrating her digital banking expertise to our customers as well as other team members."
Martell will manage the bank's retail staff at their Weston location, which is located at 7205 Stone Ridge Drive, near Marshfield Medical Center – Weston.
"I am excited to expand my work with the staff and customers at our Weston branch," said Martell. "A key strength of Peoples is the relationships we build between our employees and customers. With our community banking touch, and digital banking capabilities, I look forward to providing key resources to our customers - and supporting our branch employees as they grow and excel in their roles."
Martell holds a mastery level certification in leadership and teams and a Bachelor of Science in Healthcare Management. She serves on the board of directors for the Blue Hearts organization; is a co-founder of The SAM Foundation, supporting perinatal grief programs; and is the gala chair for the Aspirus Health Foundation's Festival of Trees. Martell is also a co-founder of the newly launched Peoples State Bank women's leadership coalition, a self-directed, grassroots council open to all employees, and designed to support, empower, and inspire the growth of all women as leaders within Peoples State Bank and throughout their community. Martell resides in Weston with her family.
#          #          #
Peoples State Bank is a community bank headquartered in Wausau, Wisconsin, serving north, central, and southeast Wisconsin from ten full-service banking locations in Marathon, Milwaukee, Oneida, Vilas, and Waukesha Counties, as well as a commercial loan production office in Stevens Point, WI. Peoples provides financial services to business owners and individuals and investment and retirement planning services through Peoples Wealth Management, a division of Peoples. Peoples was founded in 1962 and has $1.3 billion in total assets. PSB Holdings, Inc., the parent company of Peoples State Bank, trades its common stock under the stock symbol PSBQ on the OTCQX Market. Peoples is an Equal Housing Lender and Member FDIC. More information about Peoples can be found at bankpeoples.com.