Milestone Reached While Keeping an Eye on Growth

BUSINESS | SEPTEMBER 24, 2020 | SCOTT CATTANACH

Peoples State Bank recently achieved a significant milestone in the bank's history. We reached $1 billion in total assets, thanks to the trust and patronage of our customers and the hard work of many employees.
The dedication of our commercial bankers and loan processing team to assist businesses with the Paycheck Protection Program (PPP) loans was an important final step in reaching the milestone as we originated over $100 million in PPP loans. Our residential mortgage lenders and loan processors have also worked long hours despite the pandemic to help customers reach their housing goals through home purchases and lower payments on refinanced loans. I'm proud of all bank employees who stepped up to assist customers throughout 2020.
As I reflect on the milestone of reaching $1 billion in assets, I also must thank the over 700 employees and bank leaders who worked at Peoples during the bank's 58-year history. We owe a debt of gratitude to former employees who grew Peoples from a single location on Wausau's west side with $450,000 in shareholder original investment into nine locations throughout central, northern, and southeastern Wisconsin. Their hard work and dedication help current staff keep the rudder pointed in the right direction for the future of Peoples. I wish all who founded Peoples back in 1962 could have celebrated this milestone with us.
So, what does the future hold for Peoples? We will continue to grow within existing and new markets by providing banking solutions, flexibility, and service to help customers reach their financial goals. Our digital banking platforms have become a workhorse for customers who prefer to do their banking online instead of in-person through a great mobile banking experience. We continue to look for opportunities to enhance and improve our digital banking tools. And we have our eye on growth and expansion of our footprint to better serve our current customers and potential customers.
COVID-19 has shown banks need to be nimble, and ready for change. Peoples is well-positioned for what lies ahead. We are in a position of strength even as our economy sputters and customer behaviors change in unexpected ways in response to the pandemic.
Our focus on knowing and helping our customers isn't going to change as we grow. Our employees will continue to go the extra mile to help customers throughout the pandemic. Our dedication to the success of our customers was our focus back in 1962 when we opened our doors right up until now. Thank you for your trust and we look forward to serving you.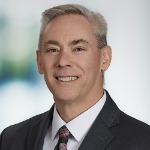 Scott Cattanach
President & CEO
Scott has more than 26 years of experience working with community banks in central Wisconsin. Mr. Cattanach is responsible for setting strategic direction and for ensuring the growth and profitability of Peoples for the benefit of customers, shareholders, and other stakeholders.