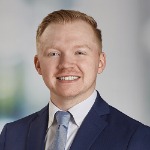 Wausau, Wis. (April 13, 2021) Peoples State Bank hired Kevin Ile to its commercial banking team. Ile will work with current and new commercial customers to provide flexible lending programs and deposit solutions to advance their businesses. He'll be based at the bank's 1905 Stewart Avenue location in Wausau.
"Peoples is excited to have Kevin as part of our commercial banking team," said Meredith Otte, Peoples State Bank vice president – private & commercial banking. "His banking experience and drive to assist customers will help area businesses grow and succeed."
Before joining Peoples, Ile worked as a commercial credit analyst and as a commercial lender for another local bank.
"Commercial banking is challenging and rewarding, and together these characteristics drive me to perform at a high level," said Ile. "I'm excited to learn from Peoples' experienced commercial banking team, and work with new and existing customers to help them grow their mission and objectives."
Ile is a Gresham native, with a master's degree from UW-Stevens Point in business administration with a focus in applied leadership and decision-making. He volunteers his time as a mentor for Big Brothers Big Sisters of Central Wisconsin and writes a blog for the UW-SP School of Business.
For more information, or to contact Kevin Ile with your commercial banking questions, call our Customer Service Center at 888.929.9902 or visit bankpeoples.com.
#          #          #
Peoples State Bank is a community bank headquartered in Wausau, Wisconsin, serving north, central, and southeast Wisconsin from ten full-service banking locations in Marathon, Oneida, Vilas, Waukesha, and Milwaukee Counties, as well as a commercial loan production office in Stevens Point, WI.