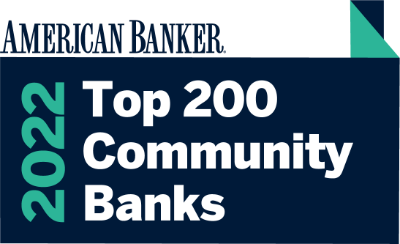 Wausau, Wis. (May 25, 2022) PSB Holdings, Inc., the parent company of Peoples State Bank, Wausau, Wisconsin, announced that for the 13th consecutive year, it has ranked among the nation's "Top 200 Community Banks." American Banker Magazine lists PSB Holdings, Inc. as the 105th top-performing bank, the second-highest rank of any Wisconsin bank eligible for consideration. American Banker Magazine released performance data and rankings in their May 2022 publication.
"Consistent recognition in this list of top performers demonstrates Peoples' strong financial foundation for our customers and shareholders," said Scott Cattanach, president and CEO of Peoples State Bank. "This continued ranking affirms our approach that doing the right things for our customers supports their success and our community while meeting the goals of our many shareholders."
Community banks—like Peoples State Bank—are vested in improving the quality of life for their customers and employees in the communities they serve. American Banker ranks the Top 200 Community Banks based on the three-year average return on equity. Of the five banks in Wisconsin included on the list, PSB Holdings, Inc. continues to be the only bank based in central Wisconsin.
For more information on PSB Holdings, Inc. operations and performance, visit the investor relations website at www.psbholdingsinc.com.
#          #          #
PSB Holdings, Inc. is the parent company of Peoples State Bank. Peoples is a community bank headquartered in Wausau, Wisconsin, serving Wisconsin from ten full-service banking locations in Marathon, Oneida, Vilas, Waukesha, Milwaukee counties, and a commercial loan production office in Stevens Point, WI. Peoples provides financial services to business owners and individuals and investments and retirement planning services through Peoples Wealth Management, a division of Peoples. Peoples was founded in 1962 and has total assets in excess of $1.3 billion. PSB Holdings, Inc. common stock is traded under stock symbol PSBQ on the OTCQX Market. Peoples is an Equal Housing Lender and Member FDIC. You can find more information about PSB, its management, and its financial performance at www.psbholdingsinc.com.