Or Reduce Risk Further by Paying with Your Phone

MOBILE BANKING | APRIL 21, 2020 | JESSICA PERRY

Money and credit/debit cards. We use them almost daily, pulling both out of our wallets to pay for grocery items, gas, and a variety of other items. There's not much you can do to clean your money, but you can clean your credit and debit cards. And there are ways to pay without touching either cash or credit/debit cards.
To clean your credit/debit cards, here's what to do:
Gently wipe your cards with an alcohol or disinfecting wipe, or a paper towel or cloth sprayed with a cleaning solution.

Don't use much elbow grease – and be careful around your signature on the back

Once in the store, you may still be asked to enter a pin number, meaning you'll need to touch the screen for that. Ask the store what their policy is regarding cleaning of those touchpoints.
Another option is to put your Peoples State Bank debit card into your phone's wallet. Many cell phones offer either Apple Pay, Google Pay, or Samsung Pay, providing you the ability to pay at participating stores without touching their equipment.
Here are instructions for setting up your Peoples card in each type of phone
iPhone
Open the Wallet app on your iPhone

Tap the + symbol to add a new card

Tap "Continue"

Either take a photo of the card or enter your card details manually

Tap on "Review the Terms and Conditions" and tap on "Agree"

Select method to verify your card

If you want this to be your default card, open the Settings app on your iPhone. Select "Wallet & Apple Pay." Select "Default Card." Select your Peoples card as your default.
Android
Launch the "Google Pay" app

Tap the + symbol to add a card or "add a credit or debit card"

Follow the activation prompts on the screen

Within Google Pay, select the card you want as the default, and then tap on "Set as default card."
Samsung
Launch the "Samsung Pay" app

Tap "Add"

Tap "Add credit card or debit card"

Take a photo of the card or enter your card details manually

Review the terms of service and tap "Agree to all"

Select an option to verify the card

Samsung doesn't have an option to set up a default card. However, Samsung Pay works with both contactless terminals and those terminals that use the old magnetic stripe technology.
At the store, look for an in-store terminal that offers Apple Pay, Google Pay, or Samsung Pay options. When you are ready to pay, simply hold your phone close to the terminal instead of swiping or entering your card. Your phone will recognize the terminal and may ask you for a pin number or to use your fingerprint authentication.
When shopping online with your phone, some sites let you select your digital wallet as your payment option instead of entering your card information.
Using your phone's digital wallet provides you the ability to pay without touching anything, except your phone.
---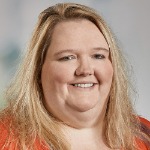 Jessica Perry
Operations Officer
Jessica is an experienced member and Supervisor of our Operations Department at Peoples State Bank. Jessica has helped to lead the implementation of new digital banking products at Peoples. She is a wife, mother, and great leader for the teams she works with.