Smarter in 60 Mortgage Tips
MORTGAGES | AUGUST 11, 2022 | BRANDON KARABA
Homebuyers… especially first-time buyers… often ask when they will make their first mortgage payment. Every situation is slightly different, but there are some general guidelines on how long you'll be "payment free."
If you close on your new home late in a month, chances are your first mortgage payment will be due in just over 30 days. That's because mortgage payments made on the first of a month are actually paying for the previous 30 days.
For example, a July 1st payment is made up of the interest from June plus money for the principal to help pay the loan down. If you close your mortgage on the 25th of June, your first payment would be August 1, and the interest would be from the month of July.
If you close early in a month…you might not make your first payment for nearly 60 days!
For example, if you close on June 4, your first payment would be August 1. You'd have nearly the full month of June without payments. That can be nice if you have moving expenses or renovation costs to worry about…or if your checking account is a little tight after the home purchase.
Regardless of when you close in a month, you'll likely have to pay a daily interest charge for the remainder of the month.
Using our June 4 example, you would pay an interest charge for June 5 through June 30 at closing. The July interest is included in your August 1 mortgage payment like normal.
You can figure out what your daily interest charge will be by multiplying your mortgage loan amount by the interest rate, and then dividing by 365. Take that number and multiply how many days remain in the closing month, and that will be your accrued interest charge. It should be spelled out in your closing costs documents.
This daily interest charge is added to the closing costs on your loan.
As you get closer to the closing date… your mortgage lender should be able to provide some insight into when your first payment is due.
---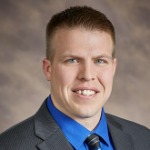 Brandon Karaba
Mortgage Lender NMLS# 412960
Brandon works hard to find the right mortgage product for his customers, making sure you are comfortable throughout the process, and answering all your questions. After all, buying a home is one of the biggest life decisions you can make. Brandon is happy when customers tell him that 'nobody ever explained that to them before.'