Tim Dively Promoted to Senior Vice President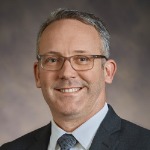 Wausau, Wis. (September 14, 2022) Peoples State Bank announced that Tim Dively has been promoted to senior vice president, chief technology and operating officer. Dively had previously served as vice president in the same capacity.
"Since joining the bank in 2018, Tim has helped Peoples move forward in digital and operational tools that ultimately have had an enormously positive impact on our customers," said Scott Cattanach, Peoples State Bank president and CEO. "Tim has proven again and again the importance of providing easy to use digital products and services for customers along with our traditional banking channels."
Dively joined Peoples as vice president, chief operating officer in 2018 and quickly helped the bank navigate towards new digital banking tools, including the Bank Peoples app. He has also been instrumental in the bank's cybersecurity efforts and merger and acquisition planning. His responsibilities grew to include the role of chief technology officer, coordinating all computer, IT, facilities, project management, and marketing operations. He recently graduated from the University of Wisconsin-Madison's three-year Graduate School of Banking.
"I am thrilled to lead the bank in offering traditional products and services, while taking advantage of the best-in-class digital solutions and security our customers demand," said Dively. "Our customers expect Peoples State Bank to have the same innovations as larger banks, but we can align those with a whole different level of service through our employees. We have embraced an innovative culture that has driven us in realizing efficiencies, improving employee knowledge, and offering the best customer experience through one's preferred channel."
In addition to his recent Graduate School of Banking degree, Dively has a bachelor's degree from Knox College in Illinois and an MBA from Regis University in Colorado. He is married and lives in Wausau. His spare time is spent traveling, golfing, attending local events, and enjoying the outdoors.
#          #          #
Peoples State Bank is a community bank headquartered in Wausau, Wisconsin, serving north, central, and southeast Wisconsin from ten full-service banking locations in Marathon, Milwaukee, Oneida, Vilas, and Waukesha Counties, as well as a commercial loan production office in Stevens Point, WI. Peoples provides financial services to business owners and individuals and investment and retirement planning services through Peoples Wealth Management, a division of Peoples. Peoples was founded in 1962 and has $1.3 billion in total assets. PSB Holdings, Inc., the parent company of Peoples State Bank, trades its common stock under the stock symbol PSBQ on the OTCQX Market. Peoples is an Equal Housing Lender and Member FDIC. More information about Peoples can be found at bankpeoples.com.