Smarter in 60 Mortgage Tips

MORTGAGES | JANUARY 18, 2022 | TORI DUNLAP
Here's a question that many homebuyers ask. What is the difference between a loan's interest rate and the annual percentage rate (APR)? The two numbers are different and sometimes confuse borrowers when reviewing the loan documents.
The interest rate is the percent that your monthly payment on the loan is based on. The APR, on the other hand, incorporates the interest rate along with additional charges, such as the loan's mortgage insurance (if you need it), closing costs, discount points, and loan origination fees. Like the interest rate, the APR is expressed as a percentage. And typically, as long as your loan includes some embedded fees, the APR will be larger than the interest rate.
And here's why it is essential to know the difference between the two numbers. If you are reviewing loan options at several mortgage lenders, it is crucial to understand what you are comparing. If you look at mortgage lender A's interest rate of 2.5% and compare it to mortgage lender B's APR of 3%, it might seem best to take A's loan offer. But that's like comparing apples to oranges. You're comparing the interest rate of one company to the APR of the other. Look closely when comparing offers to ensure you look at the same number from all the mortgage lenders you are reviewing. If you're looking at the interest rate at one company, then compare it to the interest rate of a second company. Likewise, if you're looking at the APR of one company, then compare it to the APR of a second company.
At Peoples, our mortgage lenders can help you understand the interest rate and APR that you'll pay with a Peoples mortgage. You can apply online by
selecting a lender
or calling 888.929.9902 and asking to speak to a mortgage lender.
---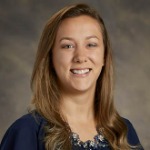 Tori Dunlap
Mortgage Lender NMLS# 1883066​
Tori serves as the mortgage lender of our Eagle River location. She has worked for Peoples for more than six years, previously as a personal banker and customer service representative at our Rhinelander location.