MORTGAGES | SEPTEMBER 13, 2022 | BRYAN WULK
Mortgage lenders are often asked to explain what an FHA loan is. FHA stands for the Federal Housing Administration… a federal government agency that insures mortgage loans to help low- and moderate-income borrowers achieve the dream of home ownership. The loan is still issued by a bank or other financial institution like Peoples. The federal government insures the loan, providing security for the bank for taking on a slightly riskier mortgage customer.
FHA loans typically have a lower threshold for the credit score needed to be approved. We're talking about a credit score in the 580 range, which may help some people qualify. Conventional mortgage loans typically require a credit score of 620 or higher. FHA borrowers usually pay higher interest rates and private mortgage insurance (PMI) because their credit score generally is lower.
First-time homebuyers commonly use FHA loans, but they are available to anyone. Someone purchasing their third or fourth home may qualify if their credit score is not high enough to get conventional financing.
The FHA doesn't lend the money to you for the mortgage. The FHA guarantees the loan. This makes it easier to get bank approval since the bank doesn't bear the default risk if you fail to make your payments.
The FHA has been around since 1943, when it was created during the Great Depression. Back then, default and foreclosure rates had skyrocketed, 50% down payments were standard, and mortgage terms were difficult for many people to meet. The government created the FHA to reduce the risk to lenders and make it easier for borrowers to qualify for home loans.
Our Peoples mortgage lenders can help you determine whether an FHA mortgage might be best for your financial situation. You can apply online by selecting a lender or calling 888.929.9902 and asking to speak to a mortgage lender.
---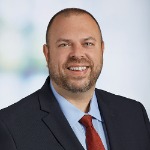 Bryan Wulk
Mortgage Lender NMLS# 285738
"I'm thrilled to help customers interested in purchasing or refinancing a home through Peoples State Bank," said Wulk. "My goal as a mortgage lender has always been to make the home-buying process as easy as possible for my customers." Wulk joined Peoples in 2022 with 19 years of experience as a mortgage lender, along with an additional six years of experience in retail banking. Wulk assists customers in obtaining financing to purchase a home, refinance an existing mortgage, or set up a construction loan while building their dream home.
---