Smarter in 60 Mortgage Tips
MORTGAGES | MAY 17, 2022 | BRANDON KARABA
As with any large purchase, fees and other expenses sometimes pop up when purchasing a home. But one thing that you shouldn't have to pay for is to lock in the interest rate that you get for your mortgage. It's a question that comes up with homebuyers from time to time. Some assume that they will need to pay to lock in the rate. But the quick answer is no; you shouldn't have to pay to lock the rate on typical home loans.
A legitimate mortgage lender should be able to provide you with some guidance on when to lock in your rate. In a fluctuating rate market, timing is essential to get a low rate locked in. Remember, when you lock in your rate, it can't go up. But it also can't go down. Locking in can be critical in keeping your monthly mortgage payments affordable.
The lock period usually extends from the initial loan approval, through processing and underwriting, to loan closing. However, it can be an extended period for construction loans. And it is possible for the interest rate lock to be voided. That can happen when the property is appraised at a different value than what was expected, your credit score, income, or employment changes, or if there is a revision to the loan itself, such as length or type of mortgage.
Our Peoples mortgage lenders can help you determine what type of mortgage might be best for your financial situation. You can apply online by selecting a lender or calling 888.929.9902 and asking to speak to a mortgage lender.
---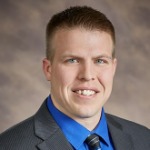 Brandon Karaba
Mortgage Lender NMLS# 412960
Brandon works hard to find the right mortgage product for his customers, making sure you are comfortable throughout the process, and answering all your questions. After all, buying a home is one of the biggest life decisions you can make. Brandon is happy when customers tell him that 'nobody ever explained that to them before.'