The Difference Between a Home Equity Loan and a Home Equity Line of Credit

MORTGAGES | MAY 26, 2021 | SARAH MATSCHE

A common situation many homeowners face is needing to make repairs or changes to their home, especially after having lived in the house for ten or more years. If you're facing a significant remodeling or repair bill, but don't have the funds available, perhaps using your home's equity is the answer.
Equity is the difference between what you owe on your mortgage loan and the home's current market value. For example, if you owe $50,000 on your mortgage loan, and your home is valued at $150,000, your equity is $100,000. That doesn't mean you can take out a home equity loan worth $100,000. Most lenders allow you to borrow up to 80 to 90% of the home's appraised value. In this case, you'd be able to borrow up to $80,000 to $90,000.
There are typically two types of equity-based loans that you can pursue. The first is a traditional home equity loan, which comes with fixed payments for the loan term. The other option is a home equity line of credit or HELOC. A HELOC is a revolving line of credit that comes with variable payment amounts. With a home equity line of credit, you can draw or borrow against the line after you've paid part of the loan back.
There are a few other differences in the loans. A home equity loan is considered a second mortgage and typically has a fixed interest rate. Homeowners receive a lump sum upfront when the loan is approved and paperwork signed.
A HELOC is a revolving line of credit that is based on the equity in your home. A HELOC allows you to take out the money as you need it, up to a preset limit, make payments, and then take money out again. Typically, a HELOC has a variable interest rate. Depending on the financial institution, you might make interest-only payments for a period of time to begin, keeping your payments low. Peoples offers HELOC loans that include a principal and interest payment so that you start reducing your principal amount right away.
So, how do you choose between the two types of loans? A home equity loan is a good choice if you know exactly how much you need to borrow and how you'll use the money. A HELOC is a good choice if you aren't sure how much you'll need to borrow. Generally, it gives you ongoing access to cash for a set period.
If you're interested in applying for a HELOC through Peoples, call 888.929.9902 and ask to speak to a personal banker.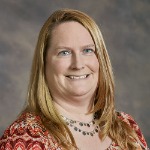 Sarah Matsche
Personal Banker Officer NMLS# 1033783
Sarah has more than 16 years of experience in community-focused financial institutions, mainly in customer relationship development. She focuses on helping plan your current and future needs.